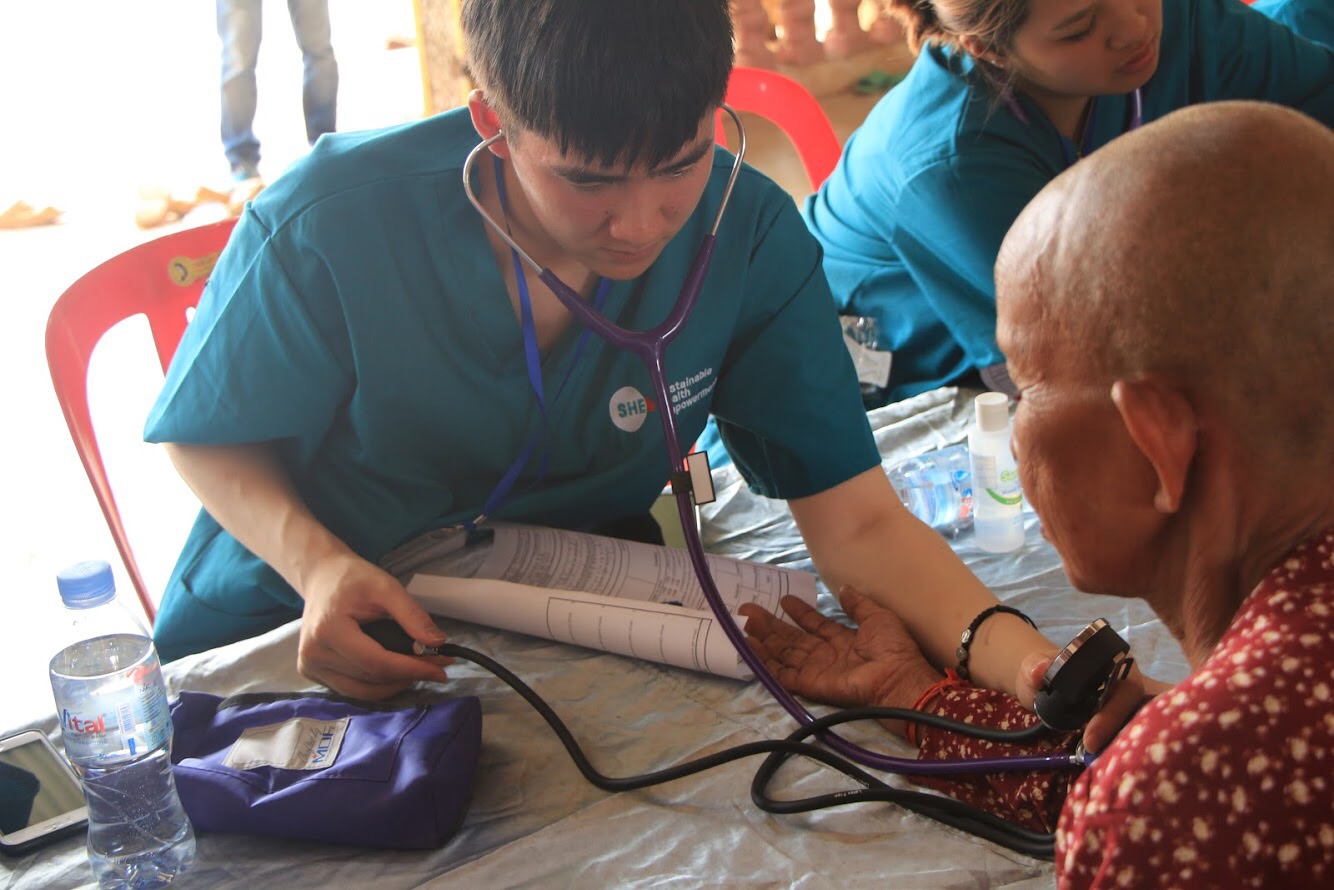 Sustainable Health Empowerment harnesses the power of education, local resources, and cross-cultural collaboration to foster equitable healthcare in underserved communities around the world.
• Sustainability is our goal.
• Education is key.
• Global and local needs, year-round, are addressed.
• Collaboration with host communities is essential (community leaders, healthcare professionals, students & local indigenous people).
• Immediate health needs are addressed (dentistry, vision, prosthetics, health screenings).
• Shipment of equipment and supplies are arranged to underserved areas throughout the year.
• Ownership is transferred for sustainability.
• Partners take pride.
At SHE, we are committed to fostering sustainable health care by empowering people—equipping them with the needed knowledge and resources needed to maintain healthy practices and to access care after we are gone.
This is why we focus on education, collaborative training, and working within a community's infrastructure as we provide our services.
Improved health practices must continue once we leave a site, or our work is not done.
Since 2014, Sustainable Health Empowerment has embarked on five mission trips to Cambodia. During those trips, we conducted hundreds of health workshops, provided onsite dental and vision services, collaborated with locals to provide medical service, and outfitted dozens of patients with prosthetic arms. We also led trainings and health fairs to educate the population and providers and empower them with increased knowledge and resources.
Off-site, SHE has coordinated the donation, packaging, and shipment of hundreds of thousands of dollars worth of useful medical equipment and supplies.
This is just a snapshot of our impact. With your help, we can do even more.
10+
Underserved Areas
In the past 5 years, we have provided health services & education to 9500+ people in orphanages, hospitals, schools, and more in Phnom Penh and in the provinces of Siem Reap, Kampong Thom, Kampong Cham, Battambang, and Sihanoukville in Cambodia.
50+
Prosthetic Arms
To date, we have fitted over 55 children and adults with prosthetic limbs, in collaboration with our partners, The Ellen Meadows Foundation (LN4) for hands and local disability centers for legs and other disabilities.
$600K
Worth of Equipment Donations
Sustainable Health Empowerment has overseen the donation of over $600,000 worth of medical equipment, supplies, and tools, including ultrasound machines, gurneys, and incubators.
12,000
Eyeglasses Distributed
Quality reading glasses, UV sunglasses, toothbrushes, soap, and other supplies are always distributed free of charge to the children and adults we serve.
Sustainable Health Empowerment customizes its programs to address each country's unique needs. For example, in Cambodia, we focus on four main areas: collaborative medical and dental services—including our well woman initiative; health education; disability services and referrals; and community wells. In each of these areas, we work collaboratively with local health professionals and citizen volunteers in order to maximize our impact for the specific locale we are serving. Our goal is always to create sustainable impact, not temporary fixes.
Education is one of our core tenets, for it is only with education that health care can become self-sustaining. SHE hosts health fairs and educational workshops—both locally and globally-- on such topics as infectious disease prevention, sexually transmitted infections, oral health and vision care, women's health issues, first aid, and heart health.


Once on site, our dentists, doctors, and other healthcare professionals team up with local professionals to establish pop-up clinics where patients are treated free of charge. Our care includes health screenings; treatment of immediate health needs, including dental care and reading glasses; occasional medication distribution; and Heart2Heart , our well woman's initiative.
Disability services and referrals are one of Sustainable Health Empowerment's main areas of focus. In Cambodia, the deadly 70's-era land mines coupled with the pandemic of workplace safety hazards have resulted in hundreds of thousands of amputated limbs and other disabling injuries. We are very proud to be able to provide prosthetic hands and referrals for rehabilitation to those in need.
Additionally, many of the people we serve lack knowledge about available assistance for those born with disabilities, such as cerebral palsy and MEC. We work hard to educate people about disabilities and connect them with needed services.
Spirit of Collaboration
Collaboration, informed by cultural competency, is the key to sustainability. This includes both US/host site and student/professional collaboration.
March 2017
"While distributing glasses I learned how privileged we are in 1st world countries to have the simplicity of a phone call to get what we need. What breaks my heart is to know that when these people are hurting, they do not have the resources we have."
Kenneth Phin, 2017 / Read Full Blog
Are you interested in joining forces to amplify this cause? We would love to include you in our esteemed roster of volunteers, donors, collaborators, and sponsors.
We have volunteer opportunities both locally (California) and abroad.
Volunteer opportunities
Join a mission trip abroad or volunteer with us locally, in Northern or Southern California.

Make a donation
Our organization and the people we serve rely on the support of monetary and in-kind donors like yourself.

Become a sponsor
If you're interested in sponsoring a trip, event, or equipment shipment, we would love to discuss a partnership.